Jurassic World: Dominion Dominates Fandom Wikis - The Loop
Play Sound
I don't ever want to see that thing again! It's the Police Department's responsibility now. Do you hear me? I won't take it back! And remember, whatever you do, don't let anybody wear that thing.

-- Katherine
Appearing in "Mask Justice"
Featured Characters:
Supporting Characters:
Villains:
Eugene Rapaz (First appearance)
Steven Listor (First appearance)
David Bonneville (First appearance)
Other Characters:
Locations:
Items:
Synopsis for "Mask Justice"
A month has passed since Katherine stole the Mask and used it to murder her former boyfriend, Stanley Ipkiss. During this time, she has realized that the thing is a curse and she goes to the Police Department, with the sole purpose of giving it to Lieutenant Kellaway.
When Katherine arrives at Kellaway's office, she witnesses how the notorious drug dealer, Eugene Rapaz is allowed to go out on parole, much to Kellaway's contempt. After the scene out of Kellaway's office, Katherine approaches Kellaway and gives him the Mask, with a cryptic message about it being the cause of the troubles caused by the "big head" a month ago and she then leaves with a warning to not let anyone wear that mask, by any means.

After Katherine leaves, the day goes by and Kellaway is forced to take the Mask back home, as he is not willing to take it to the evidence room. Once home, Kellaway ignores Katherine's warning and wears the Mask out of curiosity and he transforms into The Mask. Astonished at this transformation, Kellaway proceeds to test his immunity by inflicting serious self-harm, without getting hurt. It is then that the Mask corrupts Kellaway's mind and forces him to unleash his anger against the criminals on the streets.
Meanwhile, Eugene Rapaz and his cronies have contacted a notorious lawyer to help them get Rapaz out of the law's grip and Steven Listor uses all his influences to get Rapaz out of the law's reach due to lack of evidence.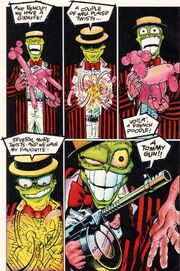 During that whole night, The Mask brutalizes, maimes and murders several criminals on a bloody rampage and the next day, the news reach the Police Department, but when Kellaway arrives, he is in a much better mood than usual. His partner, Lionel, informs Kellaway that someone called asking for him and when Kellaway returns the call, he learns that it was Katherine, who wanted to make sure that the Mask had been safely locked away and that nobody has used it. Kellaway uses a sarcastically mocking tone to assure her that her concerns are misplaced, but after hanging the phone, Katherine knows there is something wrong.
At that moment, the Police Captain informs Kellaway and Lionel about Rapaz and his fortunate turn of events. Kellaway is livid and after he talks to Steven Listor, he realizes there is little he or anyone in the system could do, but Kellaway knows there is one way to fix everything.


The events of this issue take place a month after the events of Mayhem #4.

---
See Also
[
]
Cover gallery for the The Mask series
---
Recommended ReadingEdit
Links and ReferencesEdit